Apple's new macOS dubbed Monterey is expected for release tonight — Ulysses is even faster and hit the App Store with a new version today. Just as you would expect, we prepared Ulysses for the new operating system, but there's more! Read on to find out everything you need to know.
Say Hello to the New, Smart Markup Bar
Before getting to the improvements for macOS Monterey, let's make you familiar with Ulysses' brand-new, smart markup bar on Mac. You'll benefit as a markup beginner, or if you don't know all the available tags by heart yet, and enjoy working with the mouse. Now, whenever you make a text selection with the mouse, the new markup bar will display all available markup tags at the bottom of the editor. These are different tags, depending on whether you selected text inline or an entire paragraph. You can apply the most important tags to the selection with a single click in the bar; the less frequently used tags you'll find in the More menu (…).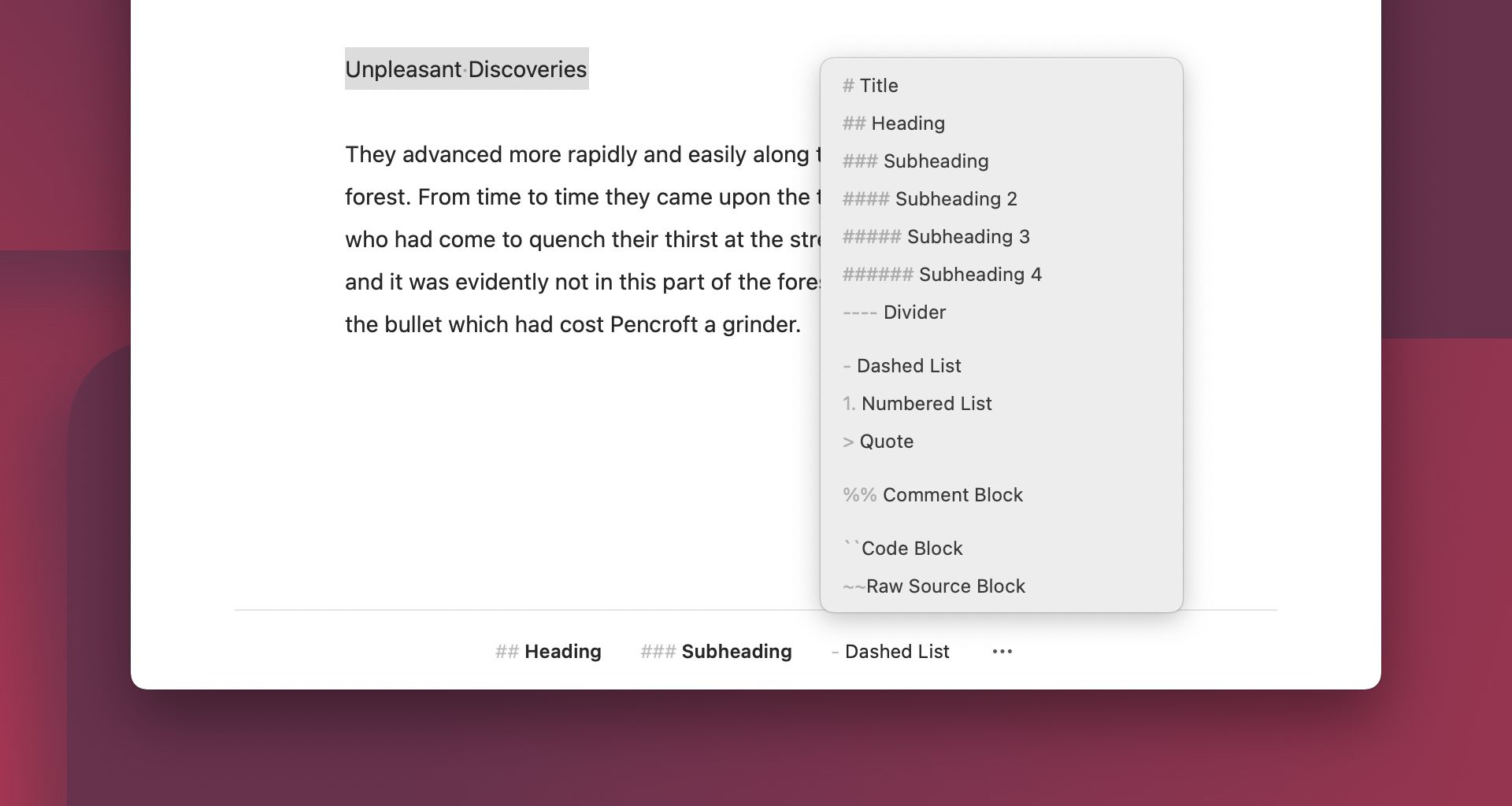 By the way: While conceiving the markup bar we renamed a few markup tags. The intended use should now be clearer for newbies; veterans will find that nothing's changed except for the name.
Ulysses and Quick Note
Quick Note is a new feature in Apple's Notes app available with macOS Monterey and iPadOS 14, allowing you to quickly gather information, sudden inspiration and links. You can now add a link to your current Ulysses sheet to a Quick Note, which works similar to adding a web link while browsing with Safari. Inside the Notes app, you can view all of your Quick Notes in one spot, and get back to your Ulysses sheet via the link you've set. You can create Quick Notes on both iPad and Mac, and access them on all of your devices, as they also sync between them via iCloud.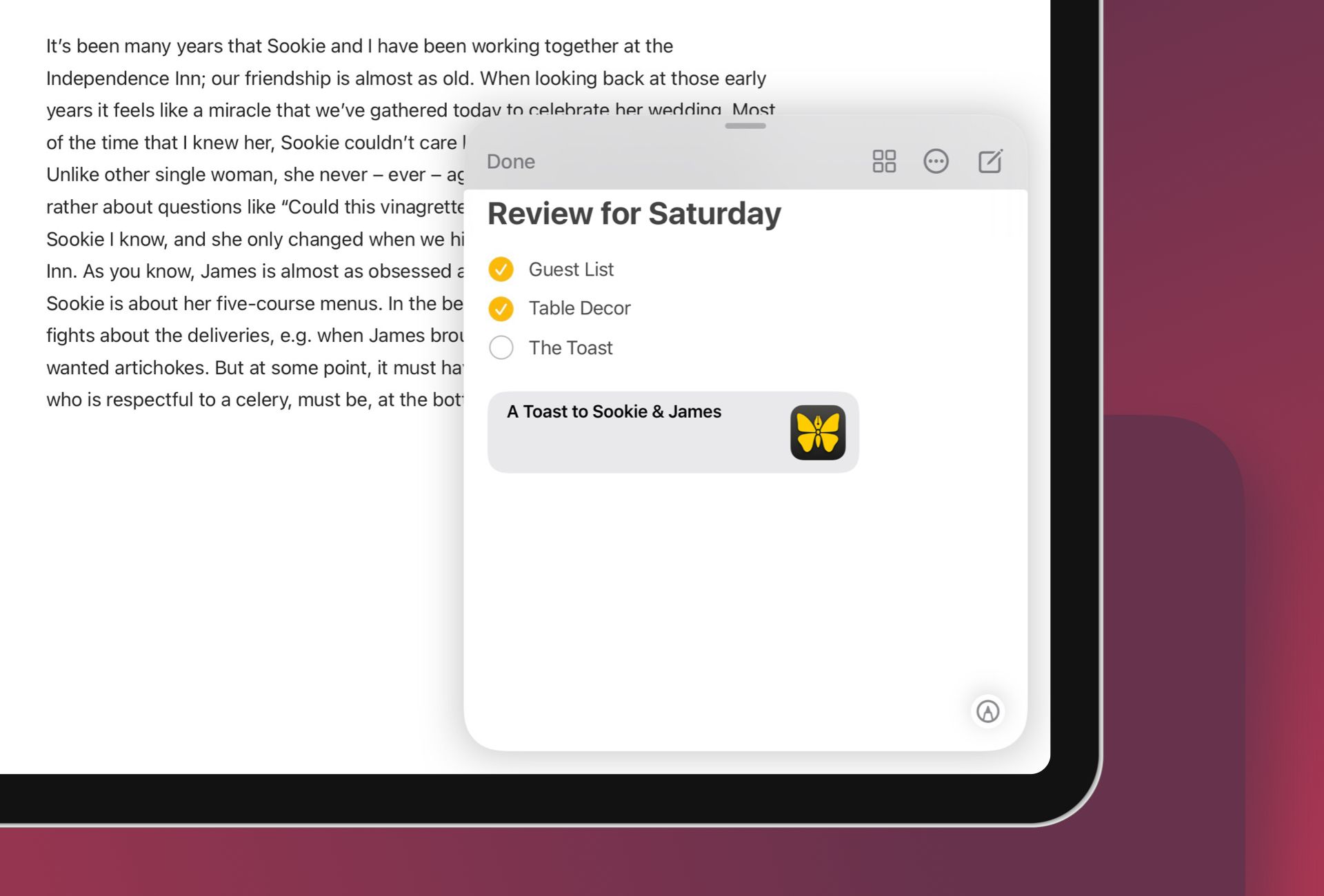 Publishing: Update Micro.blog Posts
Once again, we improved the publishing feature: You can now also update posts previously published on Micro.blog from within Ulysses. For WordPress and Ghost, we already added this option in earlier releases. This is super convenient if you spot a mistake after having uploaded or published a post — fix it, click or tap Update, and there you go. If you're not using Ulysses for blogging yet, you should really take it into consideration. For a general impression of what Ulysses can do for you in terms of publishing, check out the short video we've made.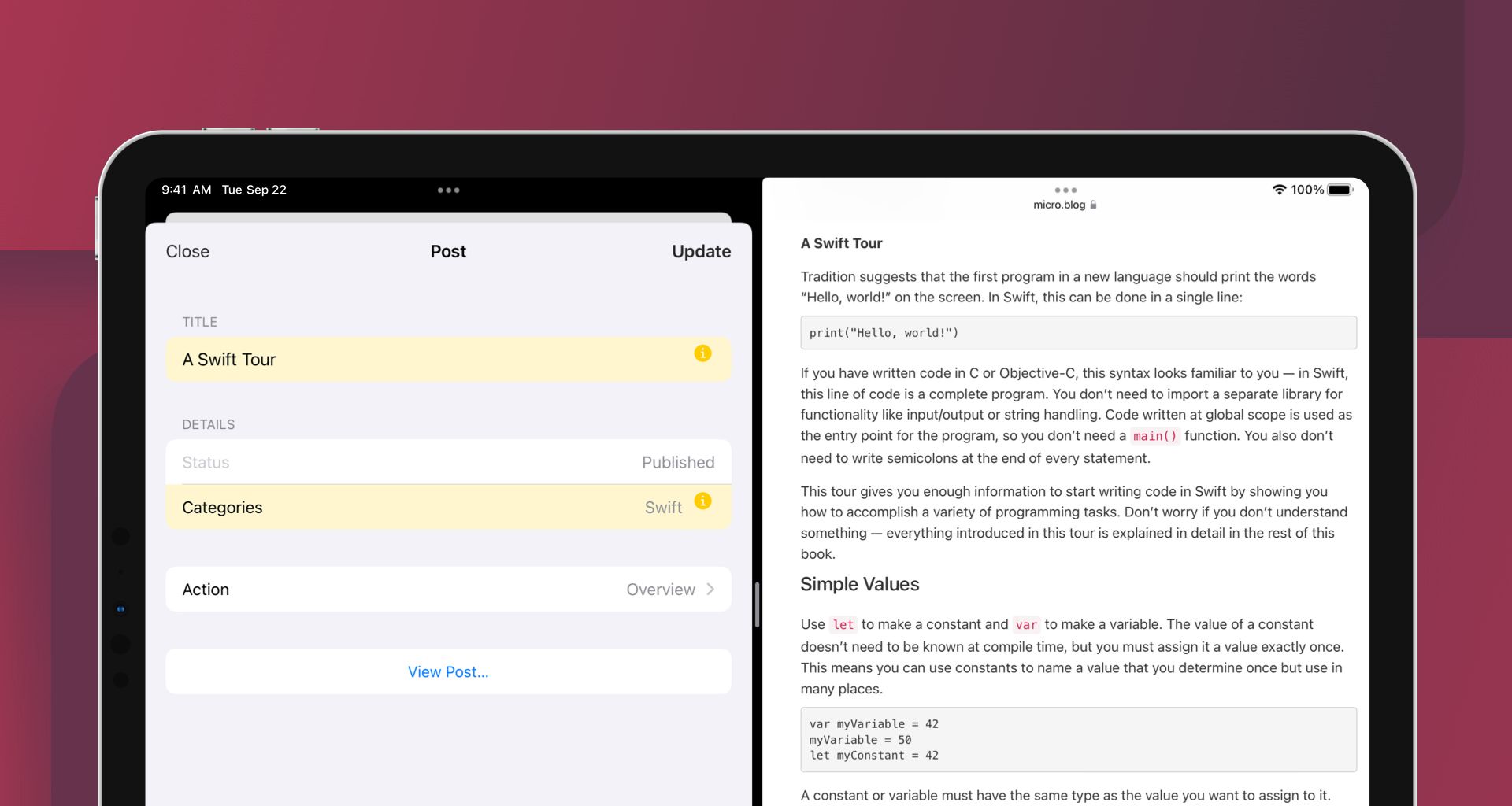 Productivity Nerds Rejoice — Ulysses Supports Shortcuts on Mac
Together with macOS Monterey, Apple brought its automation app Shortcuts from iOS to Mac. That's good news if you're into efficiency at work, because Shortcuts allows you to combine several actions from various apps into automated workflows, so-called shortcuts. Ulysses actions can be part of your Mac shortcuts now, as we used the opportunity to bring our iOS integration with the Shortcuts app to Mac. We also added two new actions: creating a material sheet, and adding an image to a sheet.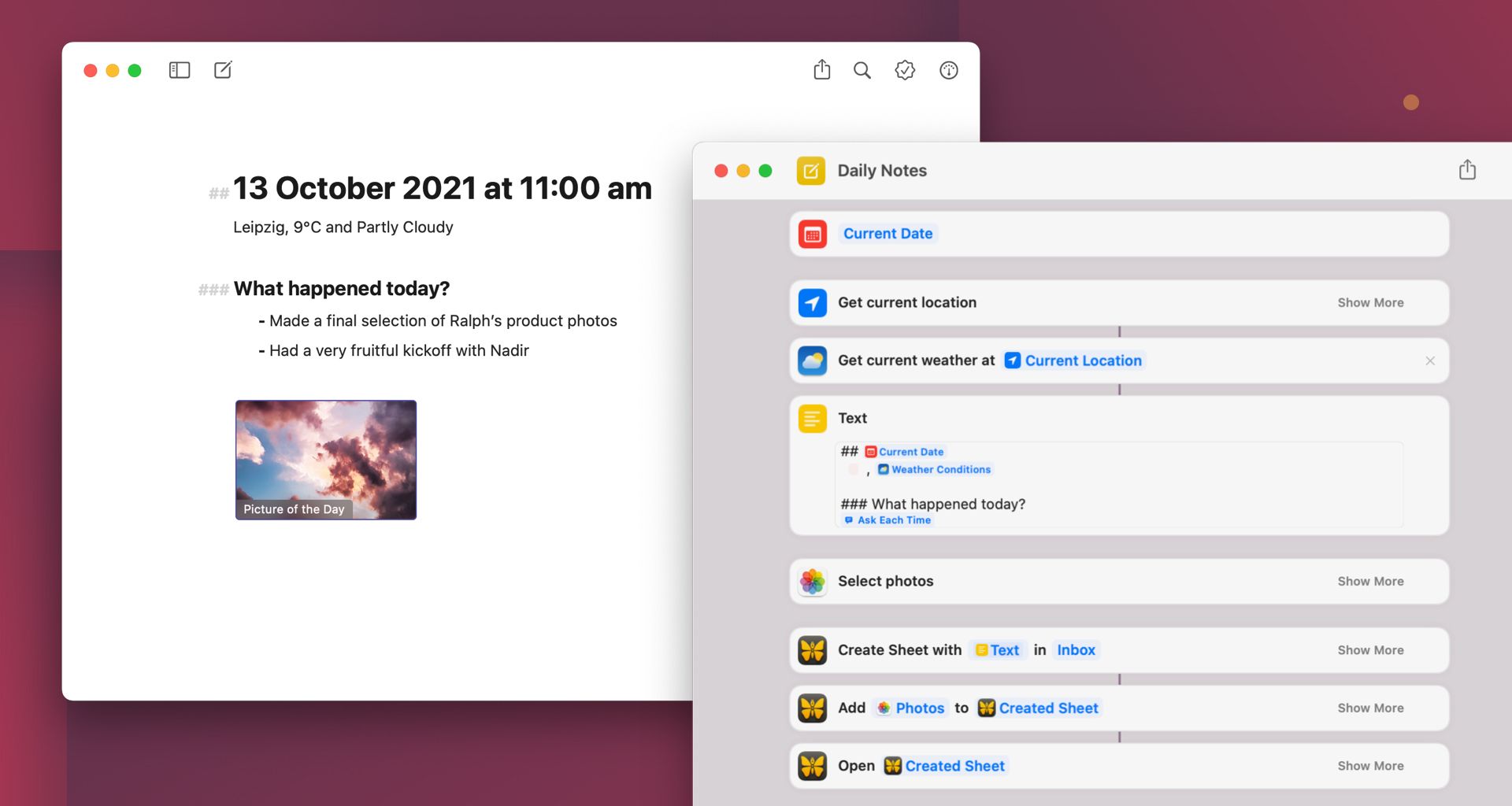 ... And More
On top of this, there are a number of smaller improvements. You may be aware that, when working on iPad with an external keyboard, you can press the command key (⌘) o show all available keyboard shortcuts in that very situation. We improved this view by cleaning up and grouping the keyboard shortcuts.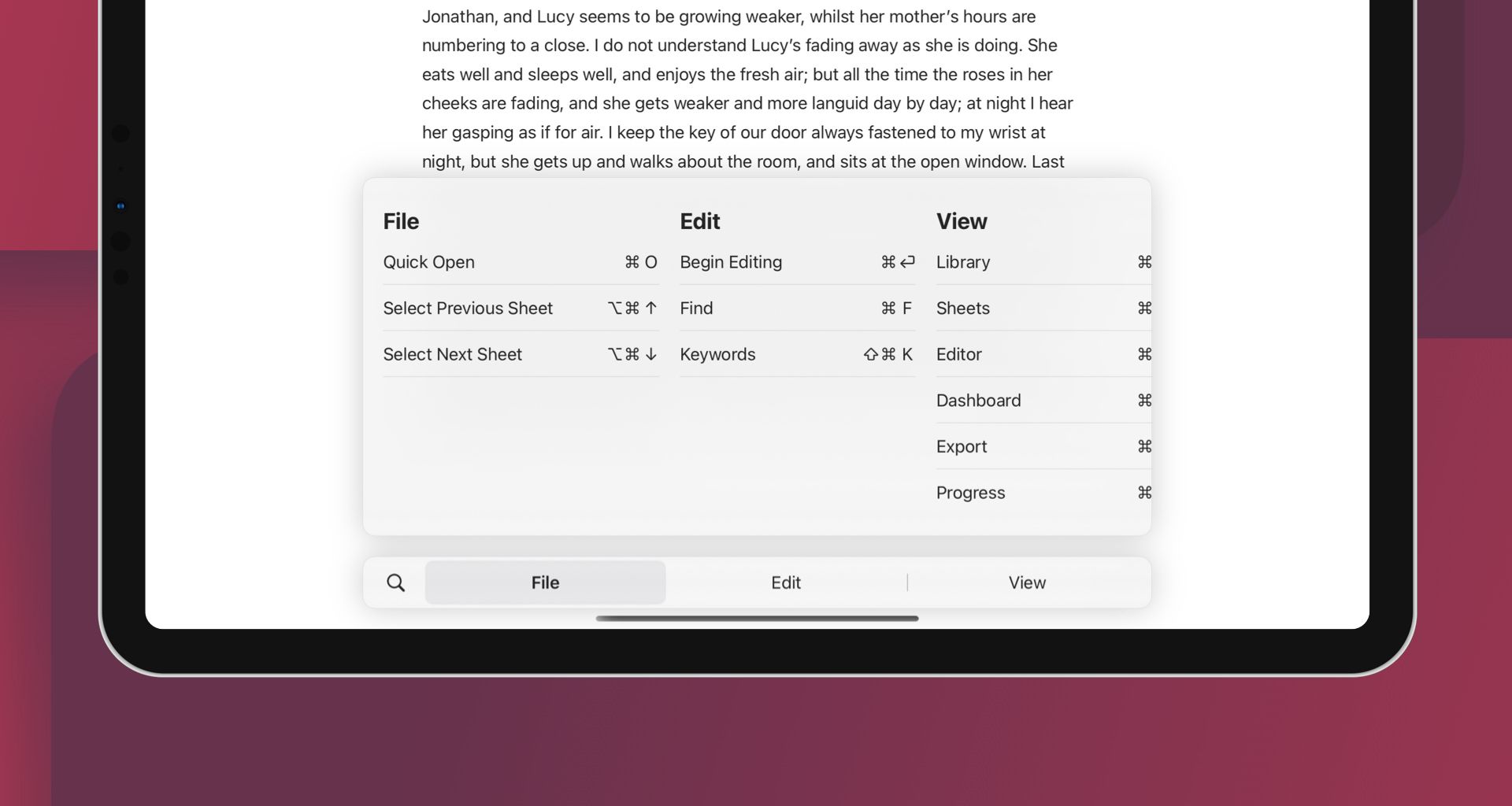 Both on Mac and on iPad, there's the new keyboard shortcut command-D (⌘D) which lets you duplicate groups or sheets. Additionally, we improved the flow for unlocking Ulysses' password protection with Touch ID or Apple Watch. Also, Quick Look sheet previews in Finder and Spotlight now look much better. For all the details, check out the version history.
The new versions are now available for download on the App Store. Enjoy, and let us know what you think!
---