We have just released Ulysses 20. It should be available now on the Mac App Store as well as the App Store, so go and check for updates.
This release is all about the dashboard. On iPad and iPhone, the dashboard replaces the attachment bar, integrates the statistics panel, and adds a much-requested navigator, which allows you to quickly jump between all kinds of sections in your sheets. On macOS, the dashboard also replaces the attachment bar, integrates enhanced versions of both statistics and navigator panels, and introduces our brand-new revision mode — featuring a comprehensive grammar and style check for well over 20 languages.
There is a lot to talk about, but I will focus on two main features here: The enhanced navigator, and the new revision mode.
Navigation Revisited
For years now, Ulysses on macOS has had a navigation panel. It listed all headlines in the currently selected sheet, and a click would scroll to whichever headline you, well… clicked on. It was simple and effective, especially when writing lengthy texts. Or rather: when writing longer texts with lots of headlines.
When we designed the new dashboard, one of our goals was to give users quick access to content beyond headlines. Let's say you're writing a blog post. Wouldn't you like to see all URLs listed somewhere? And your images, too? And quickly see which images are placeholders? Or say you're writing prose. Wouldn't you like to see your comments, annotations, and your marked text passages listed as well? Footnotes, anyone?
The new dashboard offers just that. It features navigator sections for all kinds of content — from headlines to footnotes, from images to links and annotations. Most sections will only show on demand, i.e. if your text features content of the specific type (think images), and some sections will show content in logical groups (think annotations, comments, markers). It's all designed for quick access, low friction, and a maximum of versatility. And once again, we set out to offer more options and more power, while drastically reducing clutter.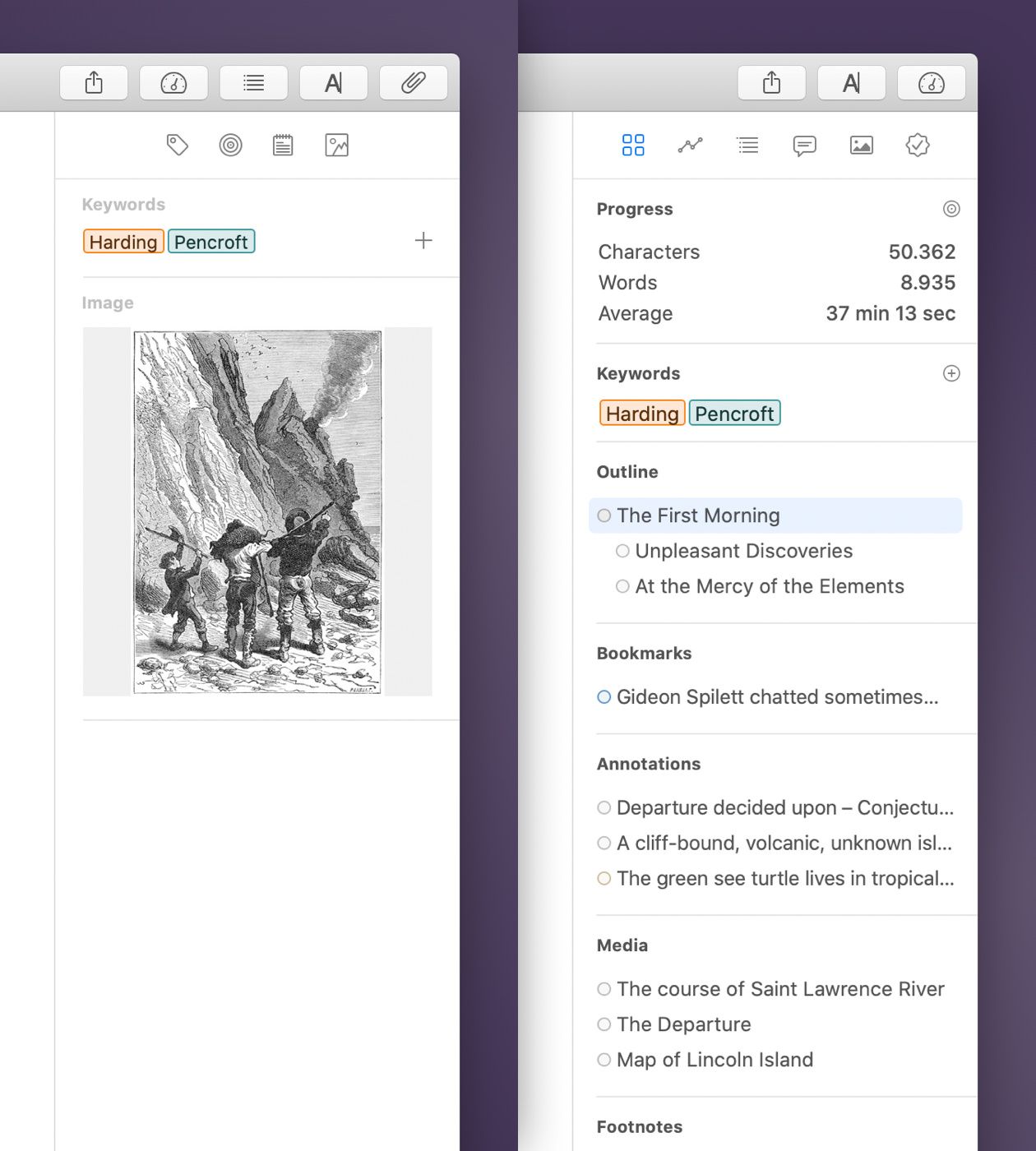 The new dashboard, including the new navigator, is available on all devices. Each device has its own dedicated look and feel because each device is different, and you'll use them differently. Feature-wise, they're on par with each other, with only one exception, which we'll make available first on macOS…
Revision Mode
On Mac, we have added a special "revision" mode to the dashboard, where we do a couple of cool things to help you finalize your texts. For example, we tone down your theme's colors to the bare minimum and reduce the prominence of all inline tags. This is already great for proofreading your text, but we didn't stop there.
First off, we included an annotation section, which lists all your comments, annotations, text markers and deletions, if there are any. So you can step through your inline notes and tick them off one by one.
We then added the results of the system's spell checker to revision mode: it comes in its own navigator section, so you can quickly see all its suggestions, with inline highlights and all. A click will take you to the word in question, and a double-click will open a popover with info text, and action buttons.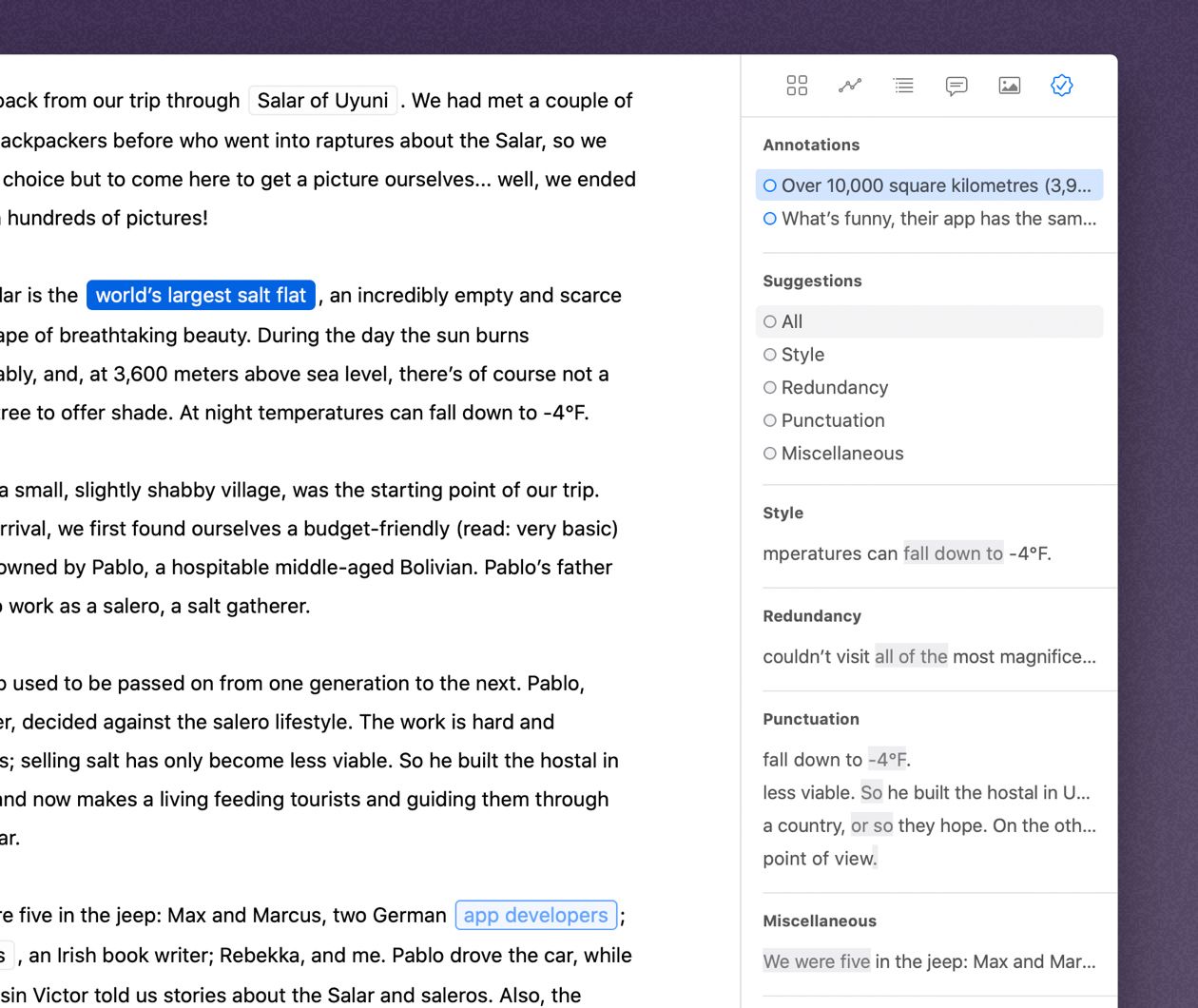 We then went that extra mile: We added an "advanced text check" to revision mode, which offers informed suggestions on capitalization, punctuation, semantics, redundancy, style and typography. We partnered with LanguageTooler for this, a fellow German company which develops the magnificent LanguageTool Plus. As a matter of fact, we fully integrated LT Plus into Ulysses, so you now have access to its comprehensive set of grammar and style rules right from within Ulysses!
As with the rest of the dashboard, revision mode is highly configurable. You can hide annotations, leave out single checker rules, or turn off spell check altogether. Though judging by beta feedback, you'll probably leave it all… checked 😜
And that's it for today. If you haven't already, go and update! Explore the new features. Let us know how they work for you. Most importantly though: Have fun!


---