Jeff Brownscheidle has completed over 6000 miles of long-distance hiking on some of America's greatest trails. He chronicles his adventures at his blog, using Ulysses for iPhone as his ultra-light travel companion.
Truth be told, I've never thought of myself as a writer. Homer, I most certainly am not. As an engineer, numbers have always come more easily to me than words. Safer. More predictable. Less apt to be used carelessly. Perhaps not surprisingly then, my relationship with writing has always been an uncomfortable one, which is how I know it's somehow important, the science side of me like an orbit whose gravitational pull I'm trying to break free from.
So in the spring of 2016, as I prepared to embark on a nearly 2700-mile odyssey on the Pacific Crest Trail, I also prepared for a journey of a different, much more frightening sort—inviting readers to join me on that adventure via the words and images of my blog. I stumbled through those first attempts to free myself from the inescapable order and correctness of numbers. Still, with each new long distance hike I began to tap into an unexpected desire: connecting those adventures and the thoughts they evoke with an audience that may never see or experience such wild places. It's been the driving force behind my writing ever since. Given a steady dose of jaw-dropping beauty and a freedom from the routine of daily life back home, it's amazing what flows from the mind if you're only willing to catch it and take the risk of putting it into words.
Each evening on trail, I settle into the cozy confines of either a tent or a hammock and let my mind drift back through the highlights of the day and the thoughts that have connected them. With a connection to writing as tenuous as mine, the opportunities for distraction can amass quickly, even out here, and the little iPhone screen staring back at me is the worst offender even when starved of its usual internet connection. On an adventure whose very purpose is to strip life to its essentials, Ulysses matches that ethos with its stripped down interface that manages to be both highly functional and free of distraction. As someone new to writing, the blinking cursor on a cluttered screen felt like a taunt that could be hard to overcome. With Ulysses, it became an invitation.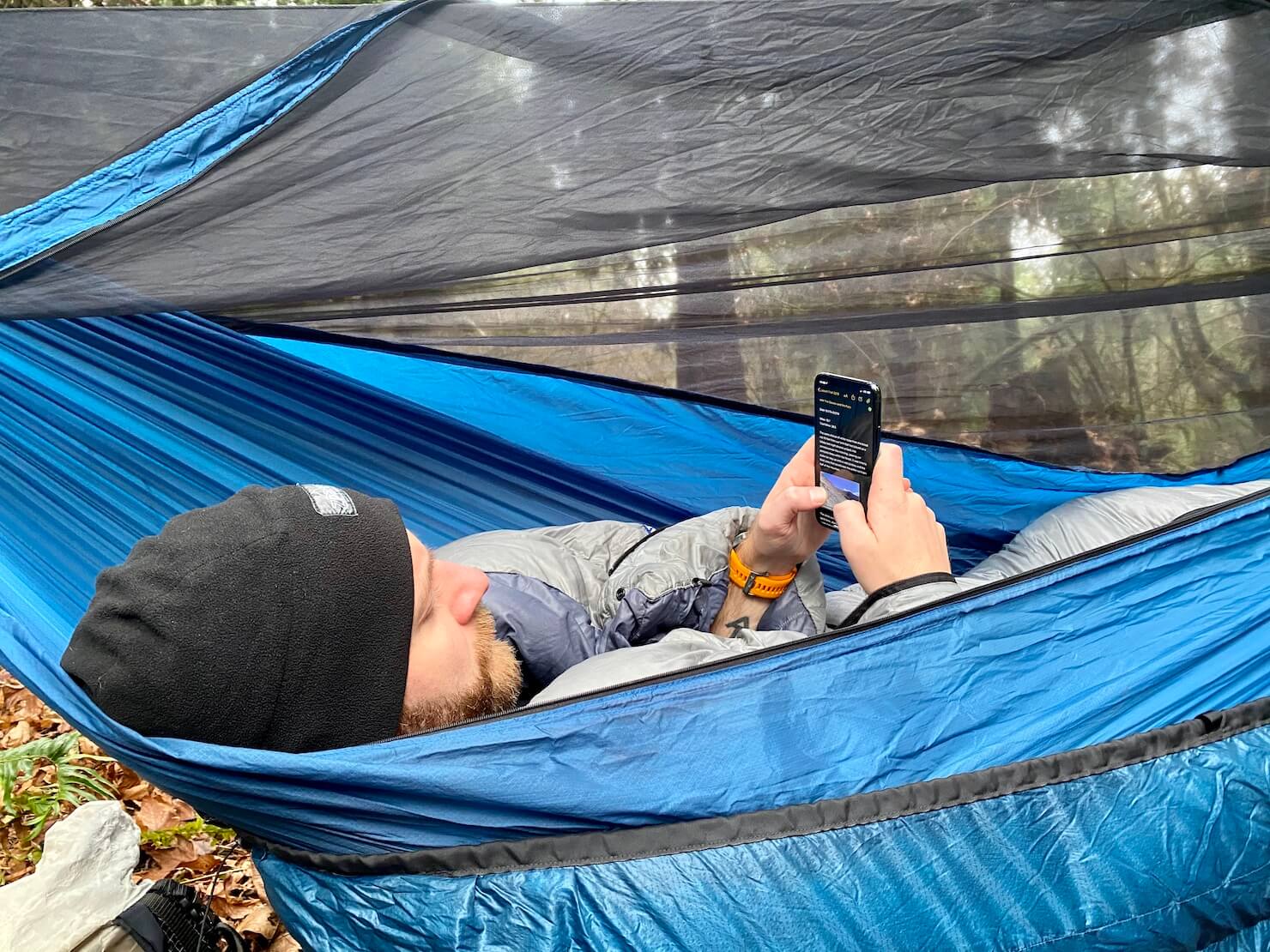 Being a world away from home and surrounded by nothing but wilderness, staring at a screen for even a moment longer than necessary is pretty far down my list of priorities, and that's where the efficiency of a workflow that leverages the iOS Shortcuts app can be very handy. By utilizing the built-in Ulysses shortcut actions, I can speed through the daily ritual of preparing to write and get down to the actual business of writing. For my posts to Stone and Sky, a basic shortcut tackles all of the following at the tap of a button:
Seed a new Ulysses sheet with a basic template
Resize all of the day's photos to the max container size of my website
Add the resized photos to the new Ulysses sheet
Open the newly populated sheet and let the writing begin!
By the time I reach the next semblance of civilization and the doors of an internet connection are once again swung wide open, pushing new posts to the blog is a snap, courtesy of Ulysses' in-app publishing capability. This leaves me more time for the truly important things in life, like eating. And showering. And eating again. And when the time comes to point my footsteps back toward the trail, the process begins anew.
Like any act of creation, writing is an act of daring. The words may not come easily, but rare is the easy thing that is worth doing.