Suman Dubey's working career has spanned over 24 years, various job types and has taken  him to several continents. Despite his success, the now author and entrepreneur felt like a misfit for a long time. Here's how literature helped him find peace with an unusual career path, what he appreciates about living in Mumbai, and what he thinks was the biggest obstacle in writing his first book.
Please tell us something about yourself and your professional background.
I run an admissions consulting firm where I work with clients seeking admission to master's programs in top global universities. Prior to becoming an author-entrepreneur, I studied at Cornell University and worked in the IT sector in Silicon Valley. In my 24+ years career, I have experimented with five different career paths across nine industries in 12 global cities. Finally, I have settled in Mumbai to pursue my two greatest passions – gourmet coffee making and fiction writing.
You have lived and worked in various cities in the US and India. What drew you to Mumbai, where you're currently living?
I moved to Mumbai in 2016, when my wife accepted a senior marketing role here. I had never lived in Mumbai before and was pleasantly surprised by the city's cosmopolitan environment and friendly vibes, with a unique mix of global and Indian cultures. Despite facing numerous problems related to urban congestion, the residents of this city maintain quintessential civility and a feeling of camaraderie that is very touching.
Moving to Mumbai proved to be an excellent career decision as my writing interests expanded beyond novels to writing screenplays, especially for online entertainment platforms such as Netflix and Amazon Prime. Mumbai is the entertainment hub of India and home to the Bollywood Film industry and the offices of all major entertainment networks, movie studios, book publishers, theater groups, music companies, news channels, etc. Living here provides access to the best creative talent and numerous opportunities for collaboration and growth. The possibility of getting a novel published or selling a screenplay for a new show is relatively high here. So Mumbai is home, unless my wife chooses to take up a job in some other part of the world. I sincerely hope she doesn't.
With a background in consulting, how did you get into writing fiction?

My first exposure to storytelling was from my father, who told me bedtime stories every night when I was a kid. There were no mobile phones or internet in those days, so people entertained themselves by reading and telling stories.
Later, during my career, I lived in many exciting places such as the border town of El Paso (famous for its stories of Mexican drug cartels), the college city of Boston, Los Angeles, and the tech-centers of San Francisco and Silicon Valley. I met some fascinating people everywhere who enlightened me with their unique stories.
I love observing human nature and understanding why we do what we do. It is fascinating to imagine how a person might behave in a particular situation. The goals, wounds, fears, and lies for real people are not significantly different from the fictional characters. Thus, the actual humans in my life have inspired the characters I have created.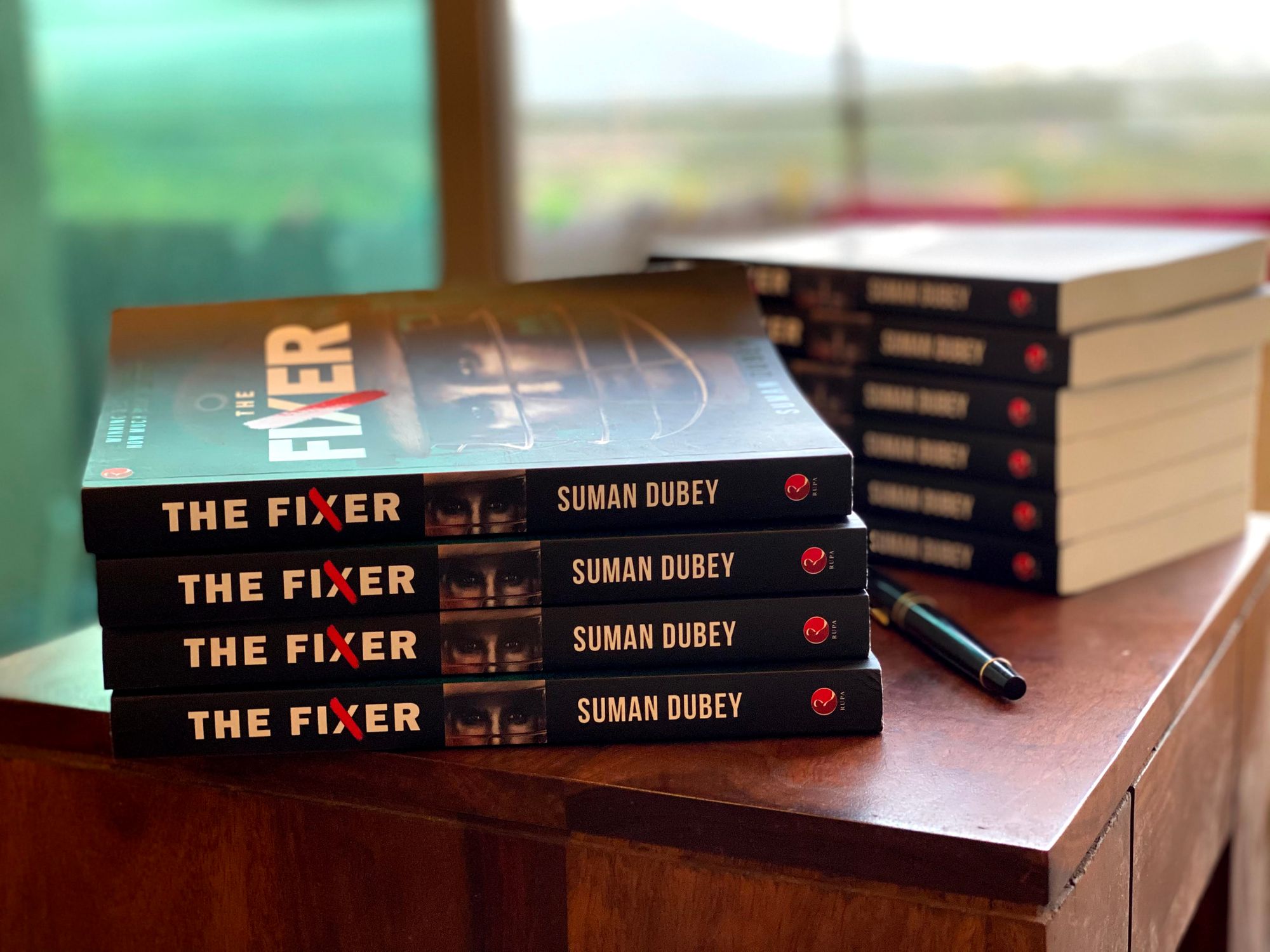 The inspiration for "The Fixer"came from my own life. My inability to 'fit in' and pursue a steady career despite being highly educated had made me self-doubting and disappointed. However, everything changed when I came across this profound line written by Oscar Wilde in his play "An Ideal Husband":
When the Gods wish to punish us, they answer our prayers.
— Oscar Wilde in 'An Ideal Husband'
This quote changed the way I perceived my life. I realized that sometimes not getting what we desperately want can be the best thing that can happen to us. It forces us to reinvent ourselves and escape the trap of settling for the easier albeit unsuitable life choices.
I understood that "aspirational regret" could be a strong driver of human nature and make people think out of their usual personalities. Thus, in "The Fixer", I wrote about the journey of a character who had failed in his career and was desperate for redemption. The overblown ambitions of this character lead him down a wrong path, and eventually towards aspirational regret. He realizes that external approval was meaningless and his real need was self-esteem and rising in his own eyes. Writing this novel cleansed my negative feelings, and helped me make peace with my situation. On a lighter note, writing provided another unexpected value by helping me get married. As an author, I had no shortage of talking points to impress the woman of my dreams.
Please tell us about your writing process, and how you used Ulysses.
I depend on detailed outlining to develop my stories. I have tried pantsing in the past and have failed miserably. For me, a story comes to life over several layers and phases. I start with the longline and the high-level beats and then develop the story by going over the material repeatedly, every time adding a new element or detail. In every iteration, I would design the scenes, add settings, descriptions, conflict, and character motivation. During this process, the story changes drastically from the initial idea. More importantly, it gives me tremendous clarity about the story and helps me quickly write the first draft.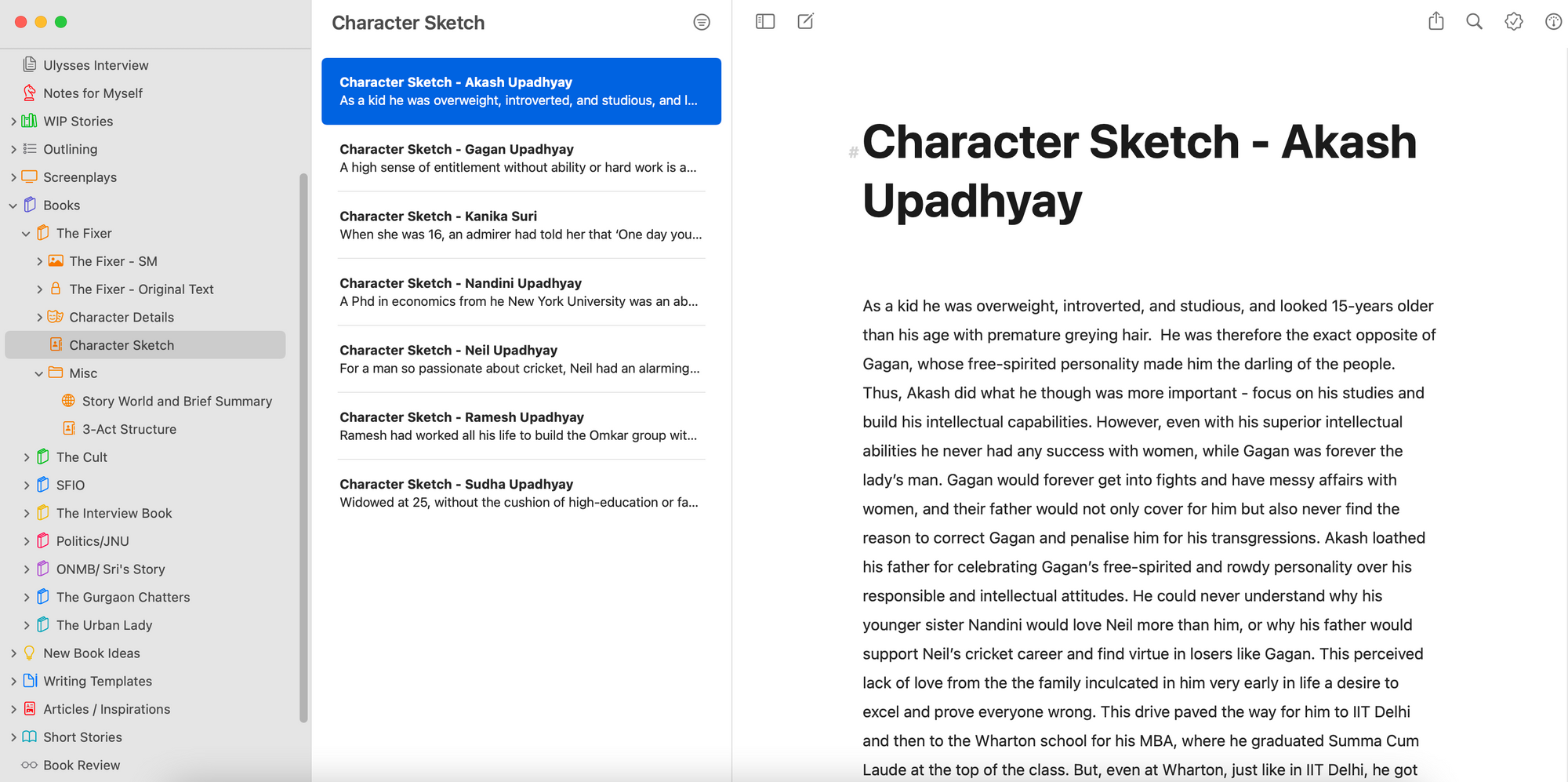 Ulysses is a perfect fit for my writing process. I create a group with the working title to start a writing project and then add subgroups for beat sheets, notes, characters, and scenes. I use established icons and color codes for these groups. After outlining, I tag the scenes with character names and monitor them using filters through the drafting process.
What do you like best about Ulysses? Do you have a favorite feature?
Ulysses stands out from other writing platforms because it creates a central repository of all my writing and eliminates the need for maintaining individual files for different projects. Individual files require a lot of maintenance of backups and version control. A Mac folder with hundreds of different files is pretty daunting. Even if you can recognize the latest version, what exactly do you do with the other files?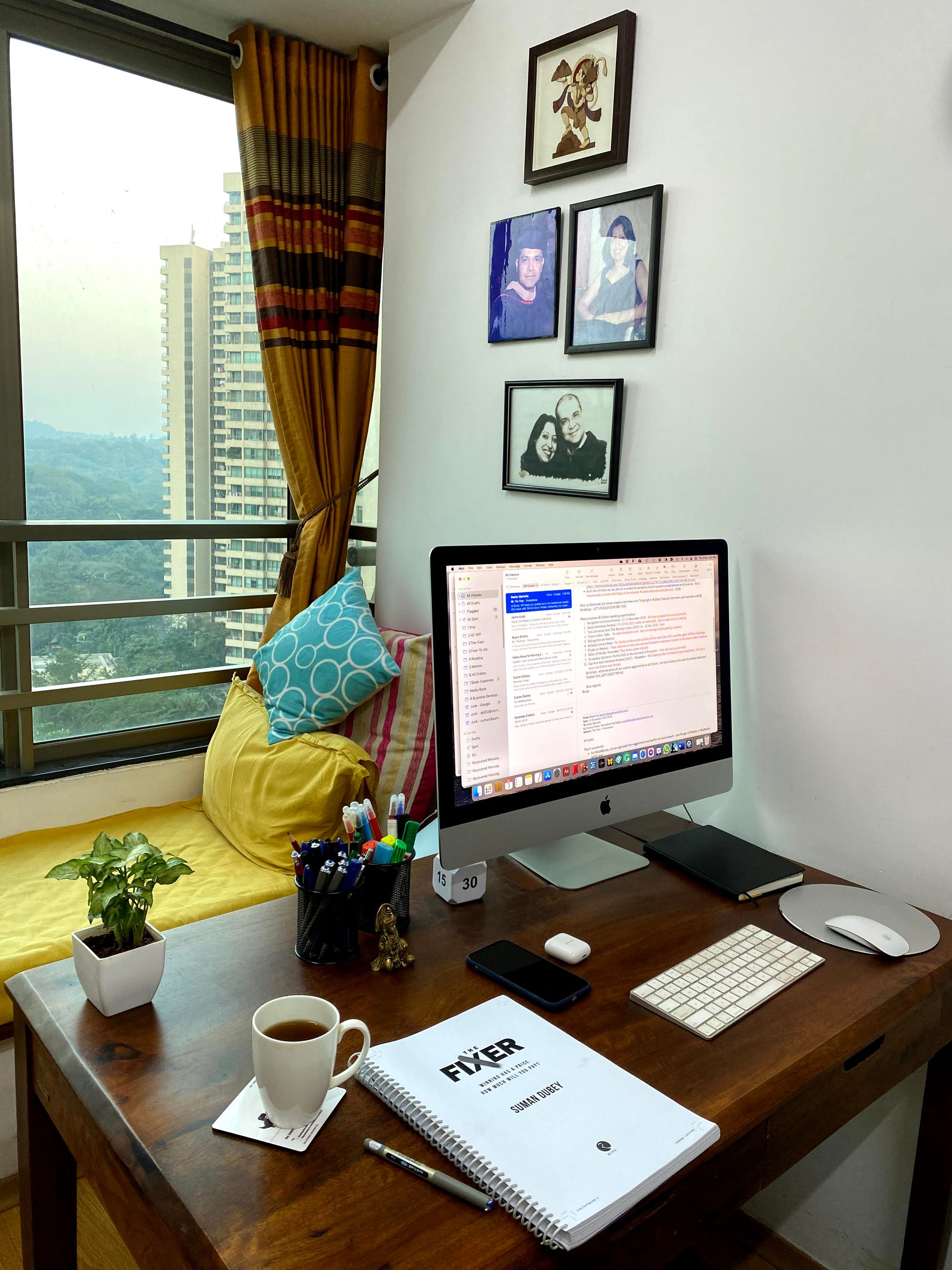 Two features of Ulysses stand out for me. The first is the ability to see different versions of a document you are working on and quickly restore a previous version to roll back changes. The second is the quick export feature into various formats with just one click. I like to spend my limited time improving my writing and not struggling with the different parameters required to export a workable draft.
What other tools and productivity apps do you use and how do they help you?
I use the Things app as a brain dump and a to-do list. I add to Things anything that comes to my mind and then deal with it later. I also use the Calendar app to block out time for my various activities. I write in the morning, so the Calendar is invaluable for ensuring my dedicated writing time is not compromised. It also helps me allocate time for my other obligations.
"The Fixer" was your first book. What were the biggest obstacles and lessons you encountered while writing it?
Growing up, I loved reading authors like Ernest Hemingway, Gabriel Garcia Marquez, and Milan Kundera. I have always been impressed by the breadth of their vision and worldview, and the fantastic ideas they brought to life with their remarkable writing skills.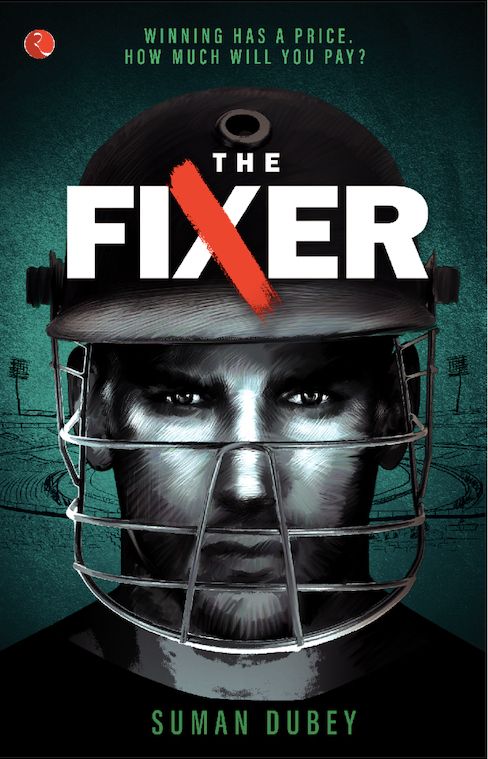 I guess, when I started writing, a part of me foolishly believed I could write like the authors I have admired all my life. I quickly realized I couldn't, and more importantly, I realized that I did not have to emulate them. I just had to be myself and do a good job writing my way and telling the stories that matter to me.
Realizing that every writer is born with their unique style and ideas changed my approach towards writing. Instead of trying to copy someone's writing style, I focused on experimentation for self-discovery. And it was quite an aha moment when my unique style broke through the clutter. So discovering my unique writing style was the biggest obstacle I faced while writing "The Fixer". It took a significant amount of experimentation, false starts, and bad writing to find it. But it was a worthwhile pursuit that deserved the time and effort that it took.
You are already working on your next book. What will it be about?

My next book is on the media business, where I am examining the impact of social-media driven fake news and digital brainwashing. Most people mistakenly think of the media space as a public service initiative and not a business. Looking at the media sector as a business that requires growth and profits like any other industry would help us understand and manage it better.
Most people mistakenly think of the media space as a public service initiative and not a business.
In recent times, the popularity and spread of social media, combined with 24 hours breaking news have created unique news patterns and behavioral changes. Thus, I am eager to provide the inside stories of the media industry narrated by key stakeholders involved in the day-to-day business of delivering news. Alongside that, I am also writing the screenplay for adopting "The Fixer" as a TV/online show.
If you would like to read more from Suman Dubey, visit his website or order his book.
---