With version 19, Ulysses now allows you to create so-called material sheets – for all sorts of items that are not meant to become part of your final text. Material sheets are excluded from statistics and export. Here's everything you need to know to make the best use of the new feature.
Oftentimes, writing doesn't start with writing but with collecting information and research. A blogger familiarizes his or herself with a new topic on the internet, collecting facts that will later become part of a post. A journalist takes notes on background interviews. A student compiles an overview of the available literature before starting to write a paper. Some novelists create a whole bunch of texts and bullet-point lists to help them write their books: character bios, location portraits, notes on historical backgrounds, plot synopses, outlines. What these types of text have in common is that they're not intended to become part of the actual text but to help write it. They're material.
For a long time, you've had the ability to attach notes to your Ulysses sheets. However, for many purposes, a note attachment is not ideal. Sometimes, material doesn't belong to a particular sheet but rather to a specific group – the group for a book project, for instance. Other times, you just need more space for structuring elements, such as headings, or would like to add images. Enter material sheets, new in Ulysses 19.
On Mac, you can create a new material sheet or convert an existing regular sheet into one ("Use as Material Sheet") via the File menu.
On iPad or iPhone, go to the library and create a new material sheet via the + icon. To convert a regular sheet, open the sheet list, swipe the sheet to the left, tap … and select "Use as Material Sheet".
You can of course also make use of the following handy shortcuts:
⌃⌥⌘N to create a new material sheet
ˆ⌘M to use a sheet as material/regular sheet
In the sheet list, material sheets are easy to recognize thanks to a visual marker.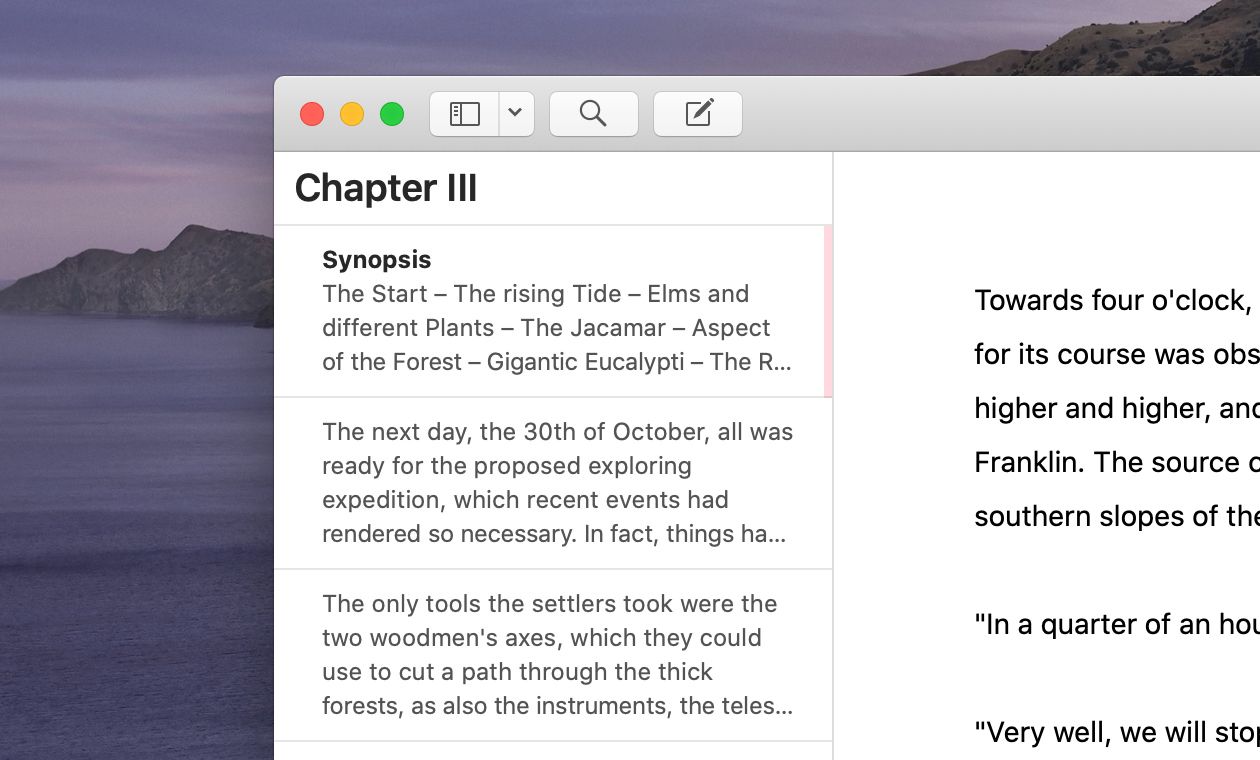 Inside material sheets, you can do anything you can do with regular sheets: Ulysses' complete markup is at your disposal, you may use images, put links, and so on. You can also assign them keywords.
There's one thing, however, that differentiates material sheets from regular sheets: They'll be excluded from all actions that apply to your "real" text: statistics, export, and writing goals. That is, if you would like to know the length of a paper, you don't have to worry about keeping your research in a separate place – if it's marked as material, it won't be counted. If you export a novel manuscript to DOCX, your character bios and background notes won't become part of it. If you set yourself the goal to write 300 words for that novel every day, your material won't exaggerate your results (not anymore, sorry friends). Please note: Export and statistics are available for single material sheets, but as soon as you mix regular and material sheets, either by selection or in case of an entire group, material sheets will be excluded.
By the way, you can now even filter your sheets for material, thanks to the new filter conditions that became available with Ulysses 19.
Remember, you can create a filter as follows:
On Mac, right-click the group whose content you would like to filter, select "New Filter", and set your conditions.
On iPad or iPhone, go to the library and create a new filter via the + icon. Don't forget to select the parent group.
Filters are versatile and offer countless options to organize your workflow. Here's a proposal for novelists:
Create a group for your novel project and add a subgroup for each chapter.
In each of these chapters, create a sheet with a plot synopsis, and mark it as material.
Within your novel group, create a filter with the condition "Sheet is material sheet".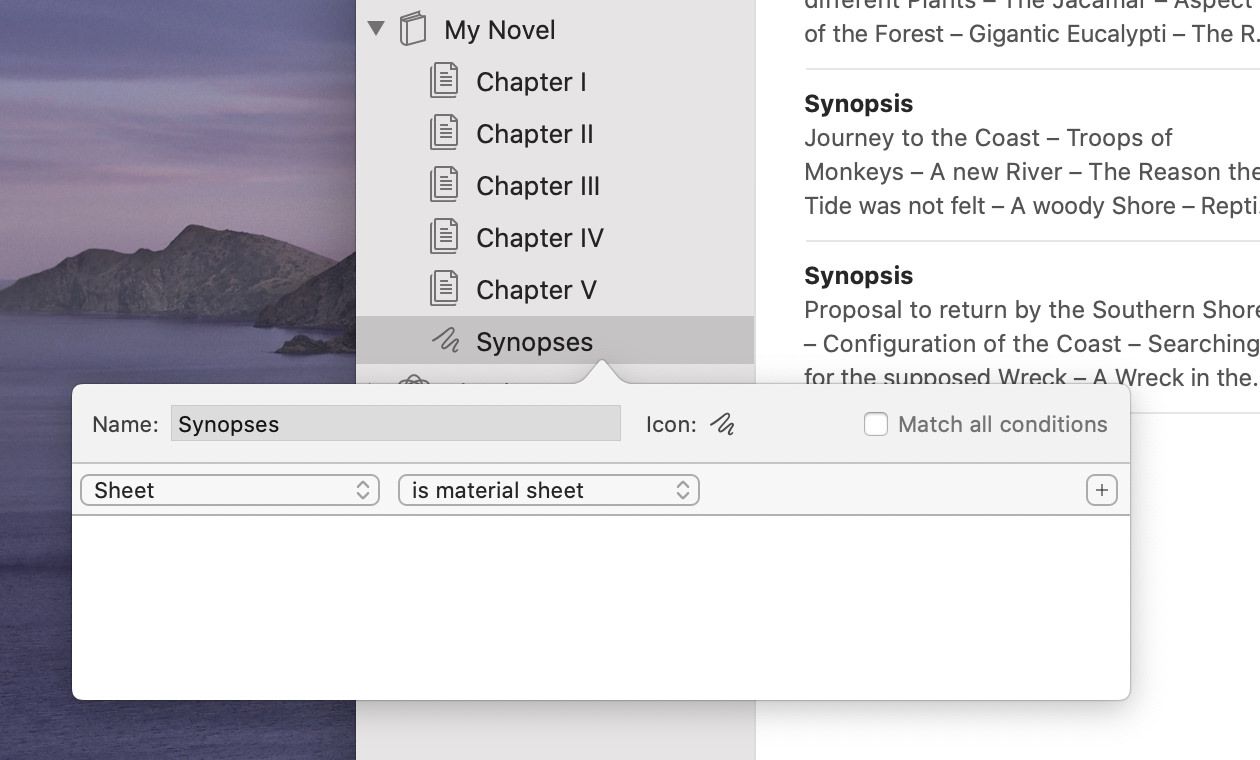 Now you can keep a synopsis at hand while working on a particular chapter. At the same time, you can see and edit all your synopses together in the filter group, and, therefore, analyze if your plot is consistent. If your novel is final, you don't have to worry: Your synopses will be excluded from export, you'll receive a clean manuscript.