An Outlook on Ulysses for iPhone and iPad and what you can do with it, Part 1
It has been a couple of weeks now since we started betatesting a new version of Ulysses for iOS: Ulysses for iPhone and iPad (and iPad Pro and iPod Touch, to be exact). We're awaiting this release with excitement, and, supposedly, some of you with us: Ulysses, finally on iPhone!
Believe it or not, from time to time we're asked what people would actually need a writing app on their phones for. Well, we do have some ideas! During the time until the release, we would like to share these ideas with you, and at the same time give you a glimpse of what you can expect.
No matter the size of your device – you'll get a fully-fledged writing app. Ulysses will be as powerful on iPhone as it is on iPad (and on iPad it is almost as powerful as on Mac). So, in technical respects, writing a novel on your iPhone is entirely feasible, even though you may want to move to a larger screen from time to time.
Whatever you write, Ulysses on iPhone will be the perfect tool for jotting down sudden inspirations wherever you are – in the park, on the subway or even at a party. Most of us are carrying their iPhones around all the time anyway. No notepad, pencil or third party app required. If you return home and open Ulysses on your Mac, your idea will already sit in the right group of your library for further exploration – thanks to iCloud sync and without a chance of being forgotten by mistake.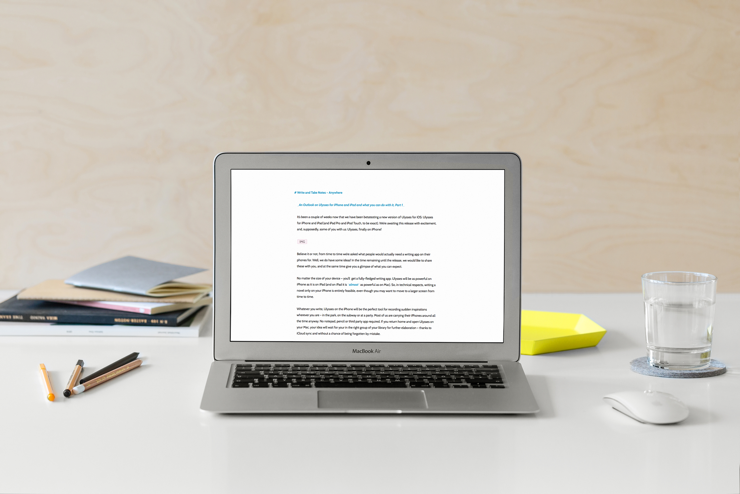 The beta tests of upcoming Ulysses for iPad and iPhone are going well, we're getting a lot of positive feedback and not too many bug reports. So, for the time being, we're still quite positive to release in the first quarter of 2016. If everything goes well… knock on wood ;-)