Starting September 28, 2017, Dropbox sync in the text editor Daedalus Touch will cease from working, for the ultimative changeover to Dropbox' API v2. As a consequence, we decided to discontinue Daedalus Touch. This post explains our reasons, and what Daedalus users should do now.
Who still knows Daedalus? No, not the father of Icarus in the Greek mythology – it's the iOS text editor Daedalus Touch I refer to. Daedalus was published in ancient times – in 2011, only one year after Steve Jobs had introduced Apple's iPad. Back then, our company was still named The Soulmen and consisted only of Max and Marcus. With Daedalus, they aimed to rethink what a text editor is for a game-changing device. Daedalus was marketed as "The World's Sexiest Writing App", and I doubt that, before Daedalus entered the field, anyone would have come up with the idea to call a writing app sexy. The old trailer still gives an impression of its charms.
Daedalus Touch: The Waltz from Ulysses on Vimeo.
In 2013, after years of hard work, we released the redesigned Ulysses and henceforth spent our time fiddling with bringing it to iPad and later to iPhone. While Daedalus' "paperstack metaphor" was acclaimed as a refreshing approach to note-taking in the beginning, many Ulysses users only reluctantly accepted the app as an iOS companion to Ulysses for Mac. The concepts behind Ulysses and Daedalus are very different, which occasionally made users scratch their heads, but at least there was an integration of Ulysses with an iOS app.
With the release of Ulysses for iPad in 2015 and for iPhone in 2016 this function of Daedalus became obsolete. We were focusing on Ulysses' further development, while Daedalus led a niche existence on the App Store, functional, but neglected by the majority of potential customers. Daedalus had not been profitable for quite a while, but we also knew of a couple of hardboiled fans out there. As long as it worked there was no reason to change the status quo.
However, with the old Dropbox API running down in September 28, 2017 we're in a different situation. Ensuring the functionality of Daedalus' Dropbox sync would require us to update to Dropbox' API v2, involving several weeks of coding work – precious time we need otherwise. That's why we decided to discontinue Daedalus and remove it from the App Store in a couple of weeks. Good bye, old pal! So long, and thanks for all the fish.
From September 28, 2017, Dropbox sync in Daedalus will stop working. If you are using Dropbox, we would like to ask you to switch to one of the other available sync options, that is, to either Box.com, WebDAV, or, of course, to iCloud. If you want, you can export your writings as plain text files, or, if you own it, send them directly to Ulysses for iOS from the export menu.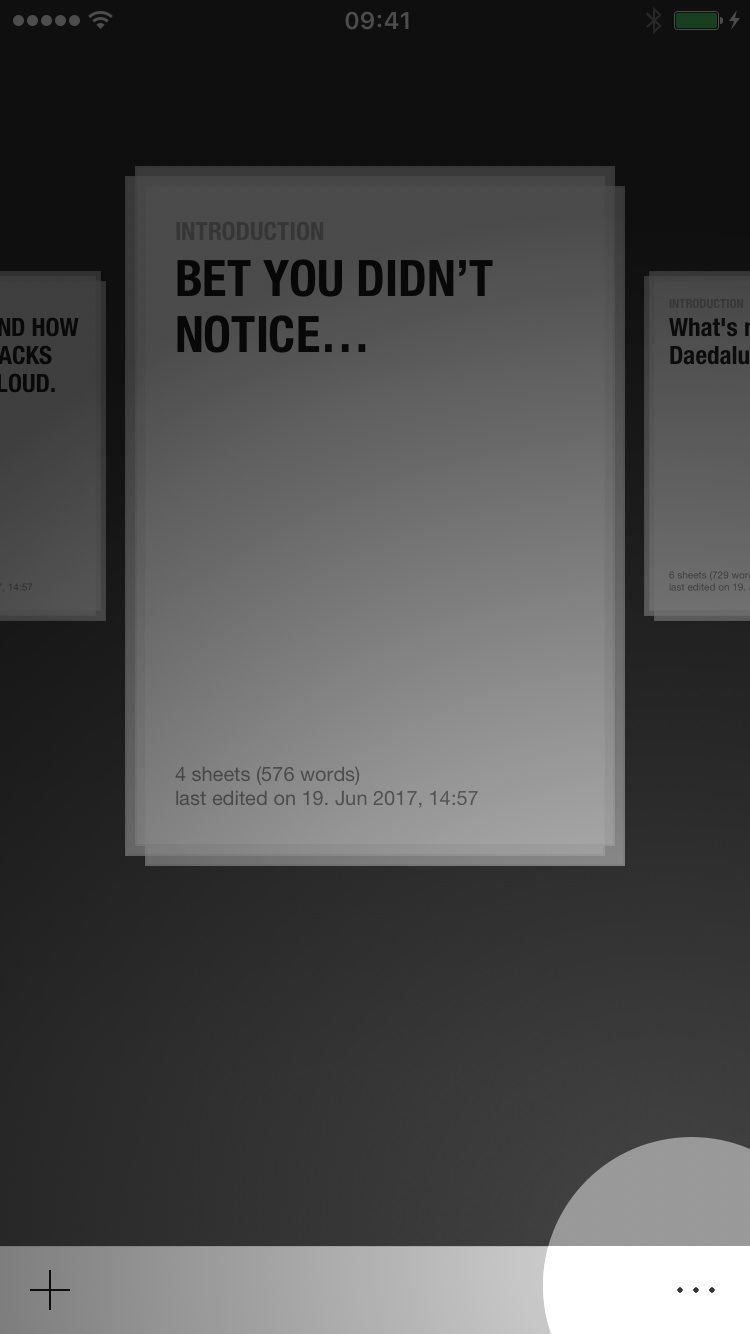 Despite the lack of Dropbox syncing, Daedalus will still work, but we would like to point out that we will no longer maintain the app. We don't guarantee for Daedalus' future functionality and recommend all users to find a replacement. We're sorry for your loss, but we hope you will understand our decision.