2020 is already a couple of weeks old – but not so old that we can't take the opportunity to look back and reflect on what happened in 2019 and what we achieved with Ulysses.
Let's start with some numbers. In total, we shipped 4 major and 9 minor updates last year. A major update is one that adds new features and improves the app's functionality. A minor update includes mainly maintenance issues, such as the fixing of bugs and crashes, the solving of performance problems, and so on. According to our internal system, we've resolved 1,235 so-called tickets, whereby a ticket can be a bug or crash, a feature, a component of a feature, or even an internal process that needs improvement. In support, we handled 12,194 email conversations with customers and around 2,370 more via social media. Some of these were simple questions or feature requests; some required more effort, which included detailed technical discussions with the developers. Also, we sent out 11 newsletters, published 39 articles on our blog, 38 on Weibo and 15 on VK.
The Top Ten Features and Improvements in Ulysses 2019
With this in mind, we'd like to highlight what we believe are the top ten features we integrated into Ulysses in 2019 and how they can help improve your writing workflow. Those who want to know exactly in which version we added which feature: feel free to have a look at our detailed version history.
1. Split View
Both on Mac and iPad, you're now able to display two Ulysses editors next to each other. Split view is handy if you want to show research notes on the left and write on the right, or if you translate a text. On Mac, we added Split View in March, on iPad in May – even before Apple released a general iPad Split View with iOS 13. We then had to make a few adjustments to conform with the system feature, but still: the Ulysses Split View was a milestone, and it was perceived accordingly in the press.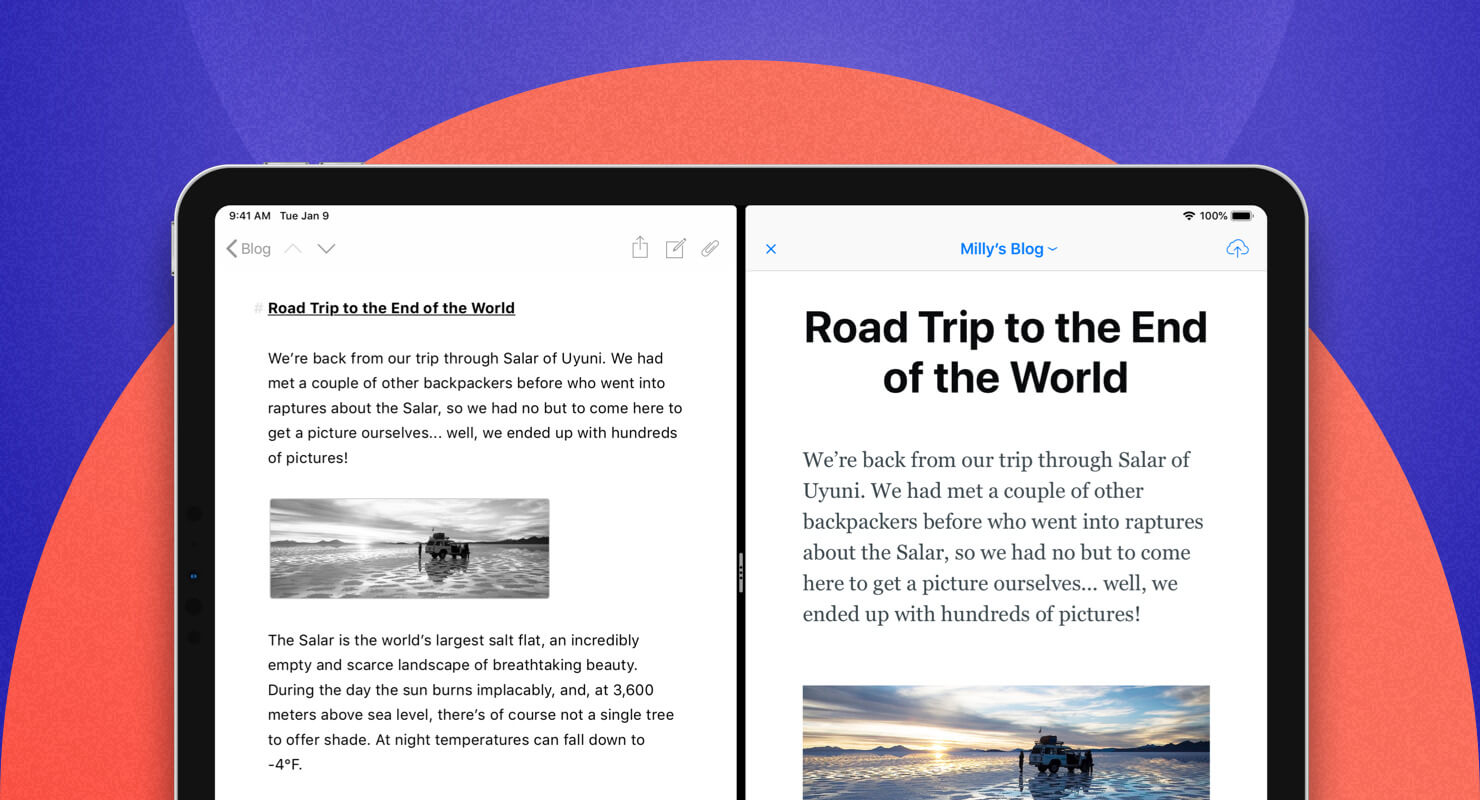 It's remarkable how much Ulysses' team was able to do to make split view feel entirely natural for users familiar with iPad multitasking.
Ryan Christoffel, MacStories
Read our detailed split view tutorial
2. Keyword Management
You've long been able to attach keywords to Ulysses sheets to keep track of your writing. Keywords are a powerful organizational feature, and their use is versatile according to your preferences. During the course of last year, we added several options to organize these keywords globally. There's now a panel for general keyword management, where you can see and edit all keywords in use throughout your library. You can merge several keywords into one, change their colors, and mark favorite keywords for faster assignment.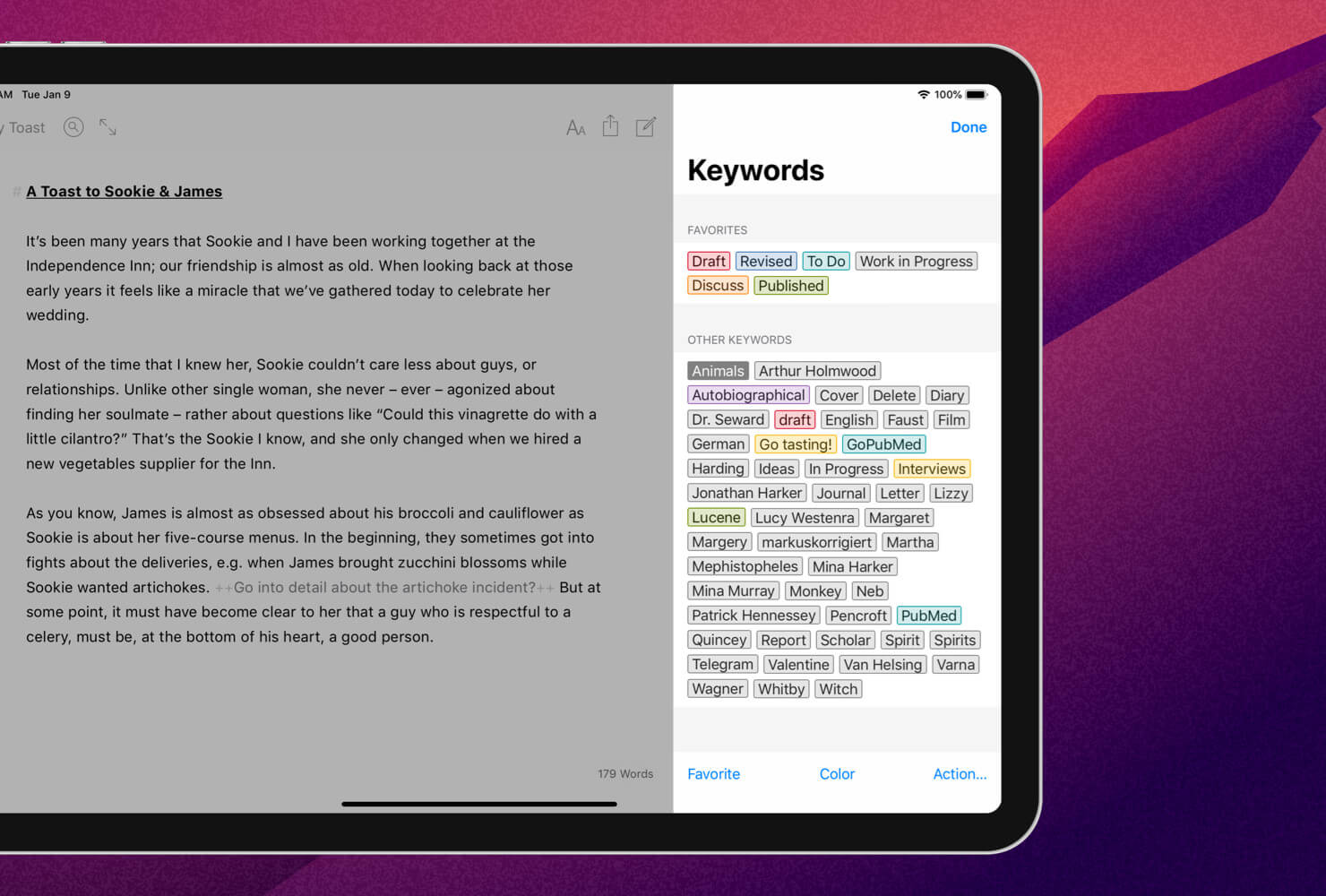 I've almost become religious about keywords inside Ulysses, and Ulysses 15 for the Mac has made managing these keywords a whole lot better.
Josh Ginter, The Sweet Setup
Read our detailed keywords tutorial
3. Publishing to Ghost
We've built-in Ghost as the third option into Ulysses' publishing function, in addition to WordPress and Medium. The platform was the most-requested among all blogging and publishing options on the table. Owners of Ghost blogs and publications can now comfortably write their posts in Ulysses and, when they've finished, publish them complete with images, tags, etc., with only a few clicks.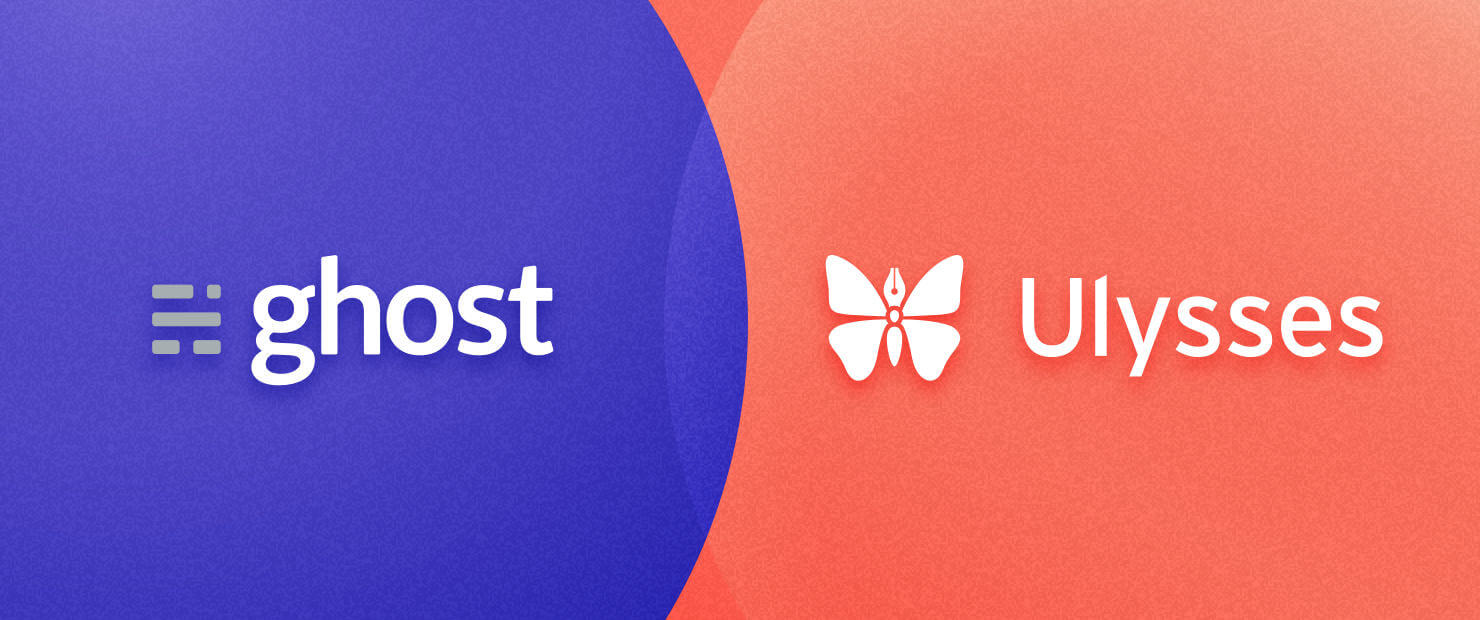 Read our detailed tutorial about Ghost publishing
4. Ulysses Files
We've added a new format for storing texts outside of Ulysses' library: Ulysses files! In Ulysses' standard use case, there is no such thing as files; your texts are stored remotely as sheets and accessed via Ulysses' library. In the past, if you wanted to edit files from Dropbox or other external folders, these had to be Markdown files and were limited in functionality. With Ulysses files, this is a thing of the past – they offer the full feature set, from Markdown XL to writing goals. If you, for whatever reason, prefer to use Dropbox for synchronization over iCloud, you now can, without having to compromise in functionality!

Learn everything about using external folders with Ulysses
Read our detailed tutorial about syncing with Dropbox
5. Localization to Dutch and Traditional Chinese
In 2019, we added two new localizations: People originating from the Netherlands, the Belgian region Flanders, Taiwan, Hong Kong, and Macau are now able to use Ulysses in their native languages. Including these, Ulysses is now available in 12 different localizations.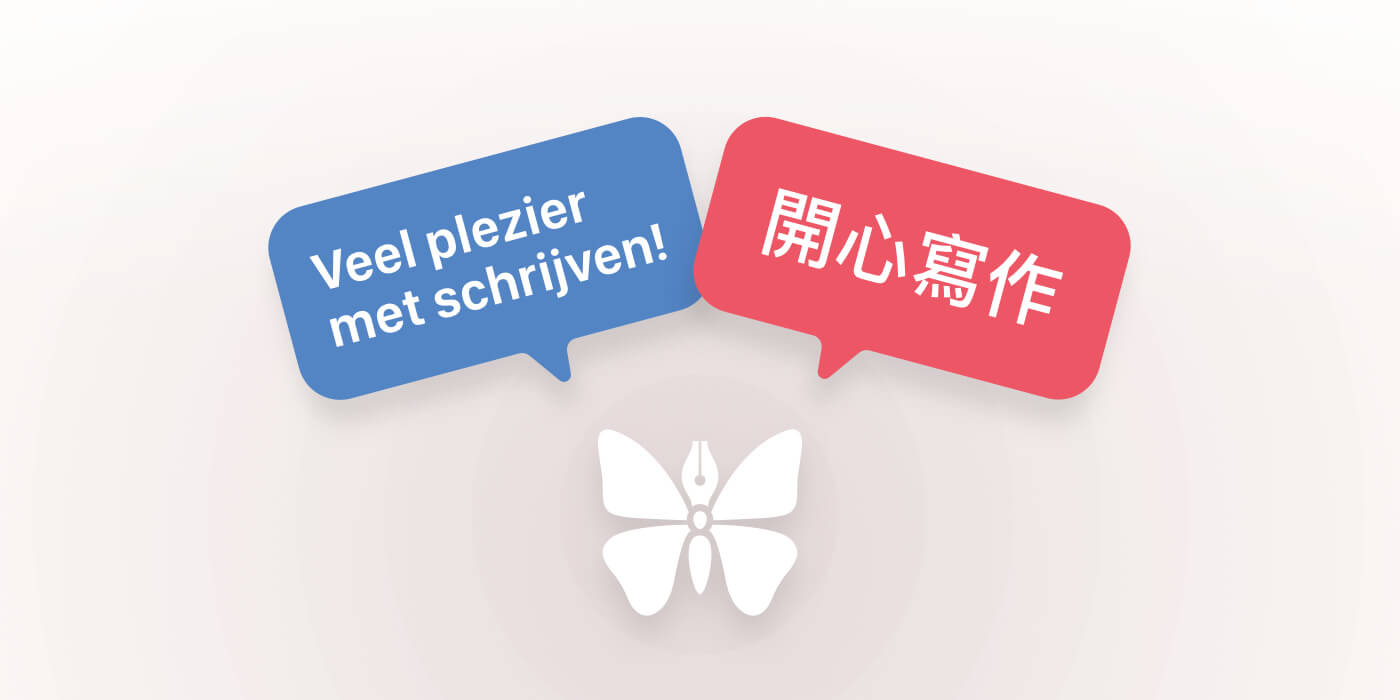 6. New Export Styles
If you export a text to PDF or DOCX, you can make use of Ulysses built-in styles to make the result look good. We've added a number of new styles covering specific use cases: Manuscript is geared towards the US standards for formatting book manuscripts submitted to publishers. Academica is suited for lecture notes and scientific articles. With its double-spaced lines and an extra-large margin, Revision provides copious room for notes for editing on a printed-out page. Finally, Business is optimized for business documents such as briefings and reports.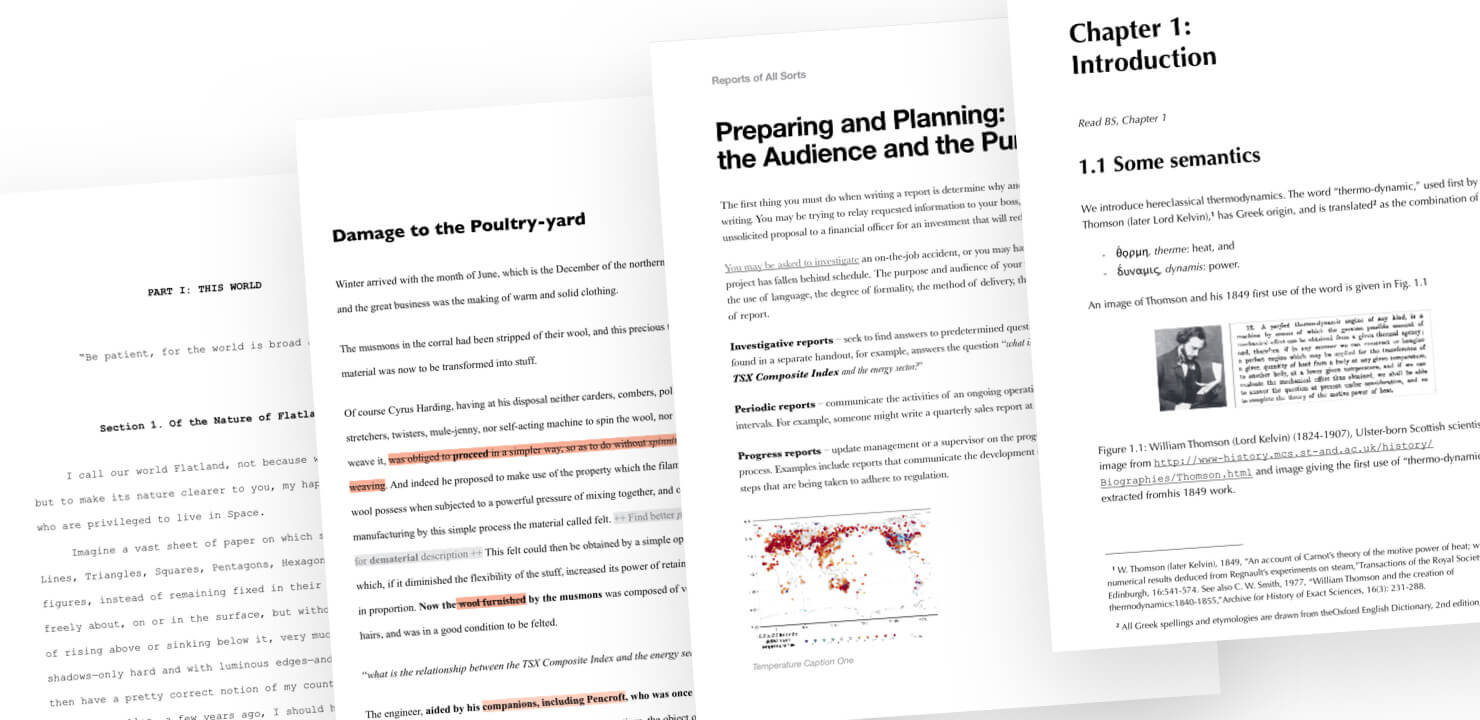 Read more about Ulysses built-in export styles
7. iPad Fullscreen Mode
One of the main aspects users love about Ulysses is the ability to work in a focused, distraction-free environment. For more and more people, the iPad is becoming a full-fledged working device. That's why we decided to add a dedicated iPad fullscreen mode to hide everything but the editor while writing. If an external keyboard is attached, even the shortcut bar will disappear (usually, it is displayed above the virtual keyboard, offering quick access to markups and shortcuts).
8. Images
Images are key for many types of texts. In 2019, we improved working with images in several aspects. Your image captions now display in the editor, and they export to PDF and DOCX. You can show previews of embedded web images in the editor. Finally, it is now possible to set the size of an image in an exported document.
Read our detailed images tutorial
9. iOS 13 and iPadOS Support
Supporting Apple's platform innovations has always been very important to us. These "small" details make an app fit naturally into its environment and have a massive influence on how intuitive it is to use. Among other things, we added support for Apple's system Dark Mode on iOS and the new iPadOS multitasking features last year – no easy task, as we had to adjust or replace the custom implementations we had before.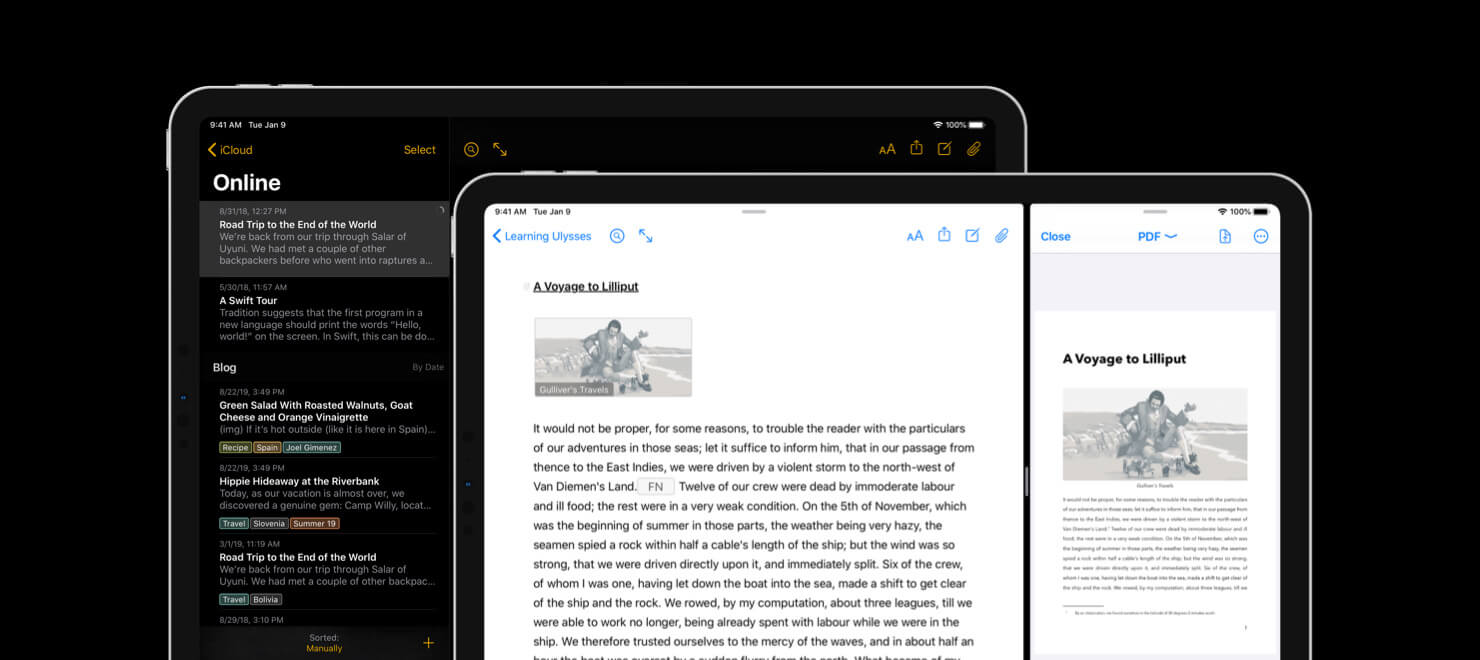 10. Support for WordPress 5.0 "Gutenberg"
WordPress is the top dog when it comes to blogging platforms. When they introduced their new editor called Gutenberg, we followed suit and made the Ulysses publishing feature fully compatible.
Read our detailed tutorial about publishing to WordPress
New Team Members
As Ulysses the writing app has grown in terms of functionality, Ulysses the company has grown in terms of employees! Seven new people entered the team in 2019:
Antje joined the support team. An industrial clerk by trade, she lived in Japan for six years, and worked, among other things, as a translator for video games.
Lisa also entered support while she was finishing her studies in media management. Lately, she started taking over marketing tasks as well.
Lucas joined the development team as a trainee. He's studying media computer science in Leipzig.
Davron supports marketing and communications with a focus on Russia. He's pursuing his MBA at the Leipzig University.
Andrea is another new support team member; her dog Krümel provides for some cuteness in the office 😍. Andrea holds three master's degrees and has worked as a German teacher and copywriter before.
Franz also entered the support team and will increasingly take over project management tasks. He's spent a couple of years abroad in Australia, Indonesia and the UK working as a product manager in different startups.
Last but not least is Kristin, who moved to Leipzig from Berlin, where she worked in a PR agency. She supports Max and the whole team as a management assistant.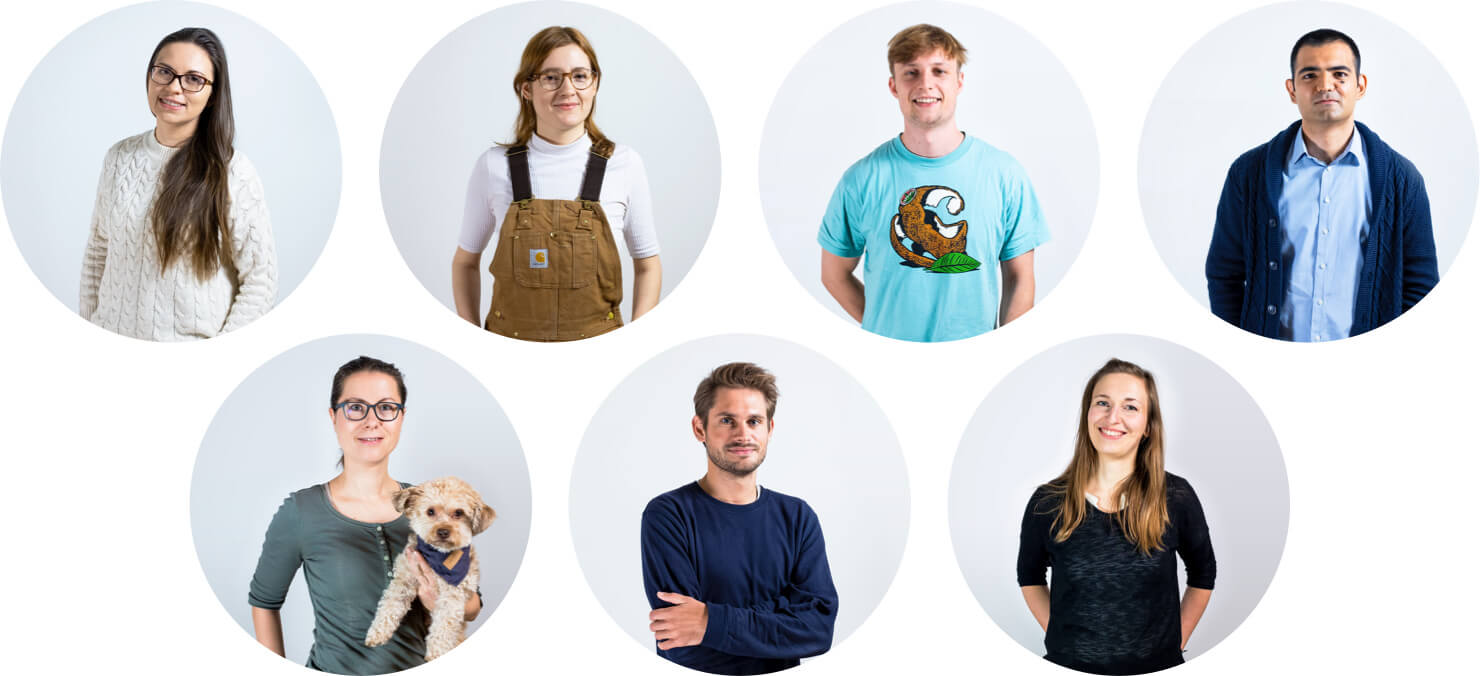 One team member left Ulysses in 2019: Lea, who worked in Ulysses' customer support for more than three years, alongside her studies. Lea finished her degrees in communication science and English studies and started a traineeship with a publishing house in Hamburg. Bye-bye Lea, thanks for everything and good luck!
If you would like to know more about the humans behind Ulysses, don't hesitate to take a look at our About page!
Outlook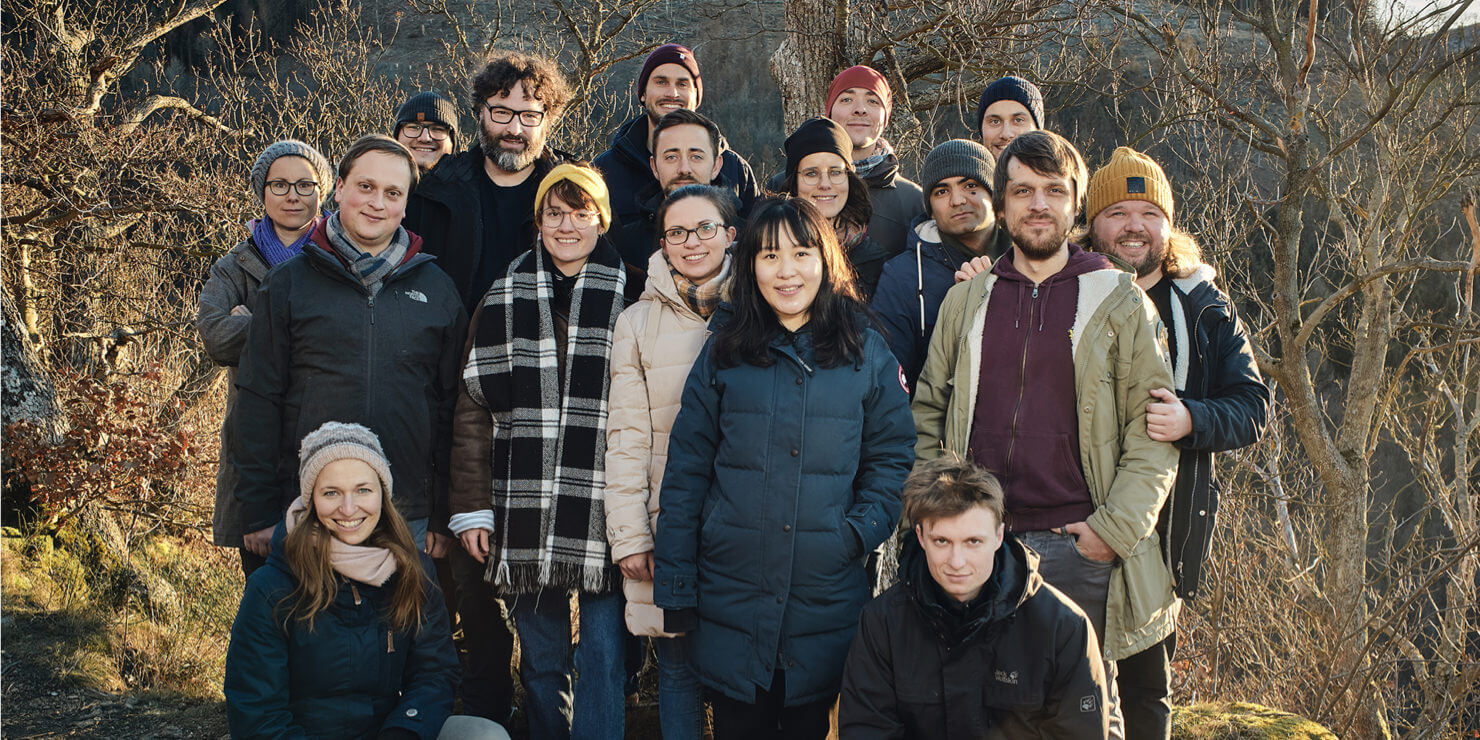 There are now 18 of us in the Ulysses team. In January 2020, we headed out to the German Harz mountains for a joint team retreat, the first one in three years. Away from our daily routines, we looked back at the exciting history of Ulysses and our company (and exciting it is, more on that at a later time 😉) and made plans for the future: for our product, but also the team and our future collaboration. If you've been following us for a while, you know that we're hesitant about sharing detailed plans – the time needed for development, especially in a small team like ours, is notoriously hard to estimate; unexpected hurdles may slow down the process. However, you can be sure that we have a couple of biggies up our sleeves for 2020 😀
Finally, a big fat thank you to you, our users, who make developing Ulysses possible in the first place. We're glad to have you!
---